Block title
The ECO interns spent their final week contributing to a wetland restoration project. They harvested native plants from existing areas and transplanted them in an effort to establish new plant communities in a man-made wetland.
The new wetland was once the site of a shooting range. MPG restored the land by first removing soil contaminated by lead shot and clay pigeons. The site was then converted into an extension of an existing wetland in the Clubhouse Floodplain.
Ylva, an MPG soil ecologist, cooked dinner with the interns and field staff. Together they created some amazing pizza varieties. The students tried new foods, and they liked them. I believe this may be the first documented case of teenage new food enjoyment.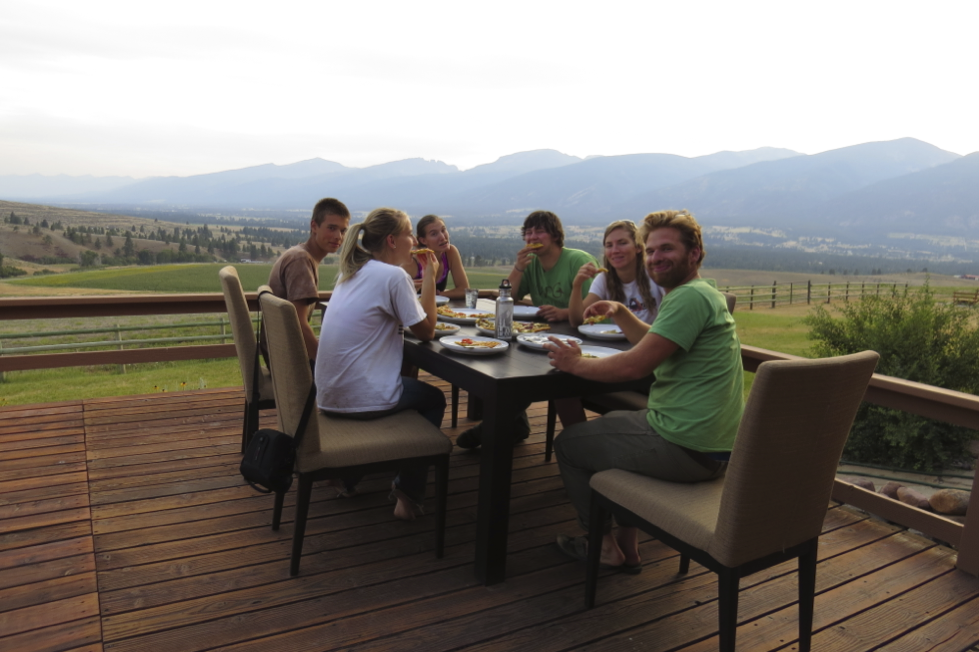 The official close to the season was a dinner in Missoula. The summer was deemed a success by all. Look for the final report in an upcoming ECO Field Note.
Missoula Parks and recreation brought their last camp group of the season to MPG. We explored the river and the Northern Floodplain.
The students caught and released toads and even saw an immature bald eagle.
Lisa, from the Ecology Project International (EPI), came for a tour. Next summer EPI and MPG will partner for the internship program.
The project will have more of an academic focus than years past and will draw students from EPI alumni.
The ECO field staff and Katharine's interns joined forces to look for bear rub trees and to collect hair samples. We found evidence of a number of different animals that call the ranch home including bear, elk, and horses.
The group marked significant sites with a GPS so that researchers can follow up on them.
Look for the Education and Outreach (ECO) season recap Field Note on Monday, September 2nd.
About the Author

Joshua graduated from the University of Montana, Missoula, in 2009 with an M.A. in Intercultural Youth and Family Development. Joshua has designed and implemented wilderness and experiential-based education programs for various agencies since 2001. He has worked in Missoula since 2005 predominately with disadvantaged populations providing challenging and empowering programming for youth and adults alike.At MPG, Joshua works to coordinate with local agencies and school districts as well as the university to connect students and members of the community to MPG's work. He also recruits and mobilizes volunteers to accomplish various projects for the ranch. In his free time, Joshua enjoys exploring Montana's wild places. As an avid outdoorsman, he enjoys any pursuit that keeps him connected to the natural world.
Previous Dispatch:
Next Dispatch: