Raptor Migration 2013 Update 6
Block title
We had our biggest weekly count with 401 raptors. All species are still migrating, and we added the first broad-wing hawk of the season. Our species diversity was high this week.
Accipiter numbers doubled from last week. Adults are still moving, and we saw an increase in immature birds starting to migrate.
The numbers of other raptors were similar to last week, with the exception of the rough-legged hawk. We saw twice as many this week, which seems late for this arctic breeder that over-winters in our region.
Warm weather is forecast, but so are mostly sunny skies. Raptors are hard to locate against a depth-less, blue sky. Many migrants are missed on days like that. Partly sunny with some clouds are ideal.
Non-raptor migrants this week include American white pelicans, Sandhill cranes, and the common loon. The first yellow-rumped and orange-crowned warblers were noted at the ranch this week.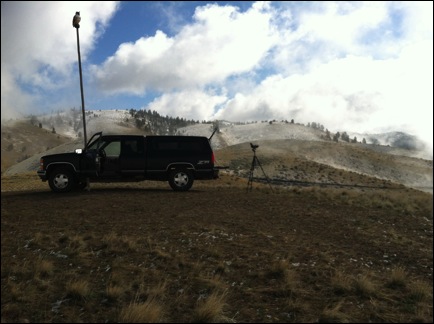 With the exception of one snowy morning, we had near-normal temperatures this week.
Raptor Counts: May 2, 2013

Species

Week Total

4/26-5/2

Total

Turkey Vulture

25

163

Osprey

22

68

Bald Eagle

3

50

Northern Harrier

32

113

Sharp-shinned Hawk

86

183

Cooper's Hawk

45

131

Northern Goshawk

1

9

Broad-winged Hawk

4

4

Red-tailed Hawk

46

417

Rough-legged Hawk

30

191

Swainson's Hawk

6

20

Ferruginous Hawk

3

5

Golden Eagle

14

120

American Kestrel

45

130

Merlin

2

9

Peregrine Falcon

2

6

Prairie Falcon

3

6

Unknown Accipiter

15

37

Unknown Buteo

4

46

Unknown Falcon

1

1

Unknown Eagle

0

4

Unknown Raptor

12

42

Total:

401

1755
About the Author

Eric received a B.S. in Resource Conservation from the University of Montana in 2000, and soon after volunteered for his first bird research job in the arctic tundra of Alaska. Afterwards he worked for nine years, mostly in western Montana, on bird-related research projects for the U.S. Forest Service.

In 2010, Eric was hired by MPG Ranch as the Bird Research Technician and now conducts breeding bird surveys, raptor migration surveys, and winter bird surveys, as well as participating in other ranch projects such as owl and raptor banding and community field trips. In his free time, Eric enjoys searching for wild mushrooms, playing ultimate Frisbee, and backcountry skiing.
Previous Dispatch:
Next Dispatch:
Related Research
December 8th, 2023
By:
Raptor View Research Institute
October 26th, 2023
By:

Maggie Blake

,

Anna Noson

and

Megan Fylling
View More >
Related Photo Galleries